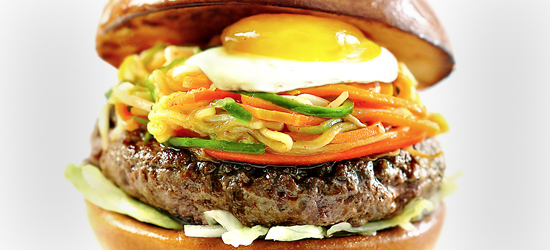 What They Say
As an American-Asian (not Asian-American!) restaurant and bar, Social Eatz offers American comfort foods with an Asian kick. Executive chef and co-owner Angelo Sosa is all about serving what people really want in exciting new ways. At Social Eatz, being social is our goal. Whether it's with friends, family, or future-friends sitting at the next table, Social Eatz believes that eating should be a social experience. We also believe the social experience should continue even after you leave. We want to build a community for foodies who want to interact with us. Twitter, Facebook, Foursquare -- however and whenever you want to reach us -- we want to hear from you! We want you to have a new experience every time you come to eat.
What We Say
Social Eatz (socialeatz.com) is an American-Asian joint serving up classic American institutions -- burgers, fries, hot dogs, mac and cheese, and the like -- all with decidedly exotic twists. The place is the brain child of Chef Angelo Sosa, who spent Top Chef Season 7 adding Asian elements into all of his dishes and now continues this mission from his own Manhattan eatery. And we've got to say we've been impressed to have seen Angelo there every time we've been. His name's not just behind the place, but he's been in the front of the house each time we've gone in. (We're too meek to have ever dared actually speak with him, of course, but big props for Angelo for actually being present at and part of Social Eatz.) Looking at the food itself, the Social Eatz menu includes the likes of the Imperialist Hot Dog, Kung Pao Wow Sandwich, Bibimbap Burger, and Sloppy Ho Chi-Minh. It's chock-a-block with sometimes-clever, sometimes-cutsey names, but regardless of what it's called, it's roundly delicious. Social Eatz marries American culinary icons with ginger, sesame oil, kimchi, daikon, edamame, gochujang, jicama, wasabi, and togarashi. Looking at drinks, it's a similar union, the Social Eatz bar stocked with American staples as well as Asian brews featuring the likes of Sapporo, Singha, and Beerlao, and an assortment of odd Asian soft drinks including Taiwanese root beer and a malted Korean rice punch.
The one thing that wrinkles our brow about the place is their Yuzu Cream Puffs. Social Eatz's flagship dessert, they're little, deep-fried balls of dough with yuzu cream in the middle. Only problem is whenever we've gotten them (every time we've gone) the dough's been sopping with grease, completely drowning out the yuzu's citrus flavor. Other than that, though, we're fans of Social Eatz and looking forward to our next trip. Which we hope is soon. During which we hope we'll work up the courage to tell Angelo we were rooting for him in Season 7, and also that we'd very much appreciate it if Asahi and Tiger Beer are added to the menu.
No, wait, another thing gets us prickly, too. It's not a complaint so much as it is a challenge. Social Eatz prides itself on offering up Asian-inspired takes on American comfort foods, but looking over their menu, there's one piece of culinary Americana strangely absent from this list. Apple Pie. We're baffled why it's not there, and we'd love to see Angelo Sosa's take on this most American of eats, reinterpreted by way of Shanghai or Singapore.
Why It's Nerdy
Social Eatz owner Angelo Sosa was a contestant and finalist on Top Chef Season 7, dishes have wonky names like the Imperialist Hot Dog, and how many other places in NYC can you down a glass of malted Korean rice punch? Social Eatz is serious about social media, too, very active across Facebook, Twitter, and more.
Location
Social Eatz is located at 232 East 53rd Street in Midtown Manhattan, on the same block as outposts of The Kati Roll Co. and Brick Lane Curry House. Social Eatz doesn't have a sign or marquee that really stands out until you're close, but it is located next to an adult novelty store which you can't miss.
Credits
Top image and What They Say from socialeatz.com. Words by Peter Tatara. Written on March 24, 2012. Link added to What We Say on April 9, 2012.