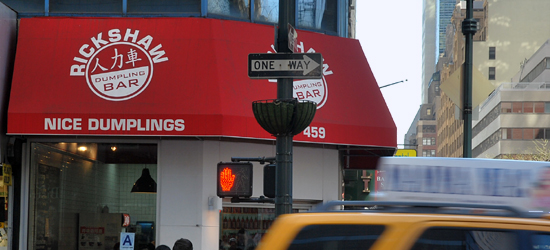 What They Say
Get tasty dumplings paired with an entree salad or a hot bowl of noodle soup in the same time it takes you to get your soy half-decaf no-whip chai-latte. Dunk your shrimp into the sinus-clearing wasabi-miso dip while you groove to the great soundtrack and forget about your daily grind.
What We Say
We first ventured into Rickshaw Dumpling Bar (rickshawdumplings.com) a few years back when looking for a venue for a birthday party. Rickshaw was too casual for the party, but the dumplings were too delicious for us not to return. The shop produces massive batches of fresh, healthy, organic dumplings and serves them up in a streamlined setting stealing a lot from the American fast food industry.
Its menu ranges from dumplings filled with classical ingredients such as pork and chives and Peking Duck to more inventive fillings like mashed up sweet potatoes or edamame paste. And, all the dumplings come paired with specific dipping sauces designed to complement the fillings' flavors. Rickshaw's menu also boasts various Asian-themed salads, soups, and sides -- all of them in-line with their good-for-you dumplings and not a mound of fries nor stack of onion rings in sight. This said, while Rickshaw boasts a six pack of their dumplings comes in at under 300 calories, not everything at the dumpling bar is part of a well-balanced diet. In fact, the joint's most famous food is its dessert.
Winning awards from various local and national media, the most prolific entry on Rickshaw's menu is its Warm Chocolate Shanghai Soup Dumpling, which is exactly what it sounds like. Taking the traditional Shanghai Soup Dumpling, a ball of dough commonly filled with savory pork cuts and broth, and instead injecting it with a hot chocolate syrup, what you get is a volcanic dessert that's as delicious as it is scalding.
Take it from us, take your time with an order of Warm Chocolate Shanghai Soup Dumplings, as you really don't want one of these chocolate bombs to explode over you after an over-eager chomp.
Why It's Nerdy
One: Rickshaw's Grand Central location is underneath Midtown Comics, making it a quick, cheap eat you can still afford after spending far too much on a replica Mjolnir upstairs. Two: All of Rickshaw's locations carry quirky slogans about their walls such as "Nice Dumplings", "Show Me Your Dumplings", and "Who's Your Dumpling?" Three: This humor continues to messages -- "Ssshh, The Dumplings Are Sleeping" -- posted on Rickshaw's doors when the shops are closed.
Location
Rickshaw has two shops in Manhattan, 61st West 23rd St by Madison Square Park and 459 Lexington Ave by Grand Central Terminal (and Midtown Comics), as well as a pop up shop (that may or may not be here to stay) in Times Square and a food truck (whose location you'll be able to find on Twitter by following @rickshawtruck).
Credits
What They Say from rickshawdumplings.com. Words and top image by Peter Tatara. Written on April 9, 2012.