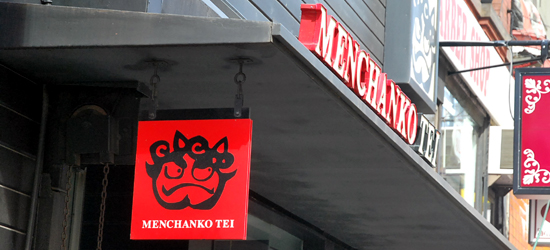 What They Say
Our noodles are made fresh daily in our dedicated factory with our original recipe: a wheat base with Mongolian sea salt. When prepared, all three thicknesses are always perfectly al dente. Every noodle goes down smooth. Simmered in a soy sauce base with concentrated flavors of dried bonito shaving, scallops, shiitake mushrooms, and konbu seaweed, the broth has a light flavor free of any dyes or artificial additives. And, while black pepper is ordinarily used to season ramen, for our ramen, we prefer our original citron pepper paste, a surprising blend of red pepper, citron, and salt. Just a dash can bring out the layered flavors of our original soup.
What We Say
New York is home to some of the most upscale ramen shops in America. Places with hour-long waits just to get a seat. Joints that only produce a dozen bowls a day. Menchanko Tei (menchankotei.com) isn't one of them. A chainlet with one location a block from Grand Central and another just South of Central Park, it's a noodle shop with a neighborhood feel. And, it's never let me down. Menchanko Tei doesn't have New York's most nouveau noodles, but they do produce fantastic, favorable, affordable bowls in a warm, simple setting.
Menchanko Tei gets its name from its signature item, the menchanko, a noodle stew with 400 years of tradition made of seafood, vegetables, and meat that was and continues to be one of the staples served at sumo stables in Japan. Beyond this titular dish, Menchanko Tei offers various other noodle shop classics including hakata, shoyu, and assari-style ramen, chanpon noodles, and udon. Complementing Menchanko Tei's bowls are an assortment of Japanese apps and bar food standards such as octopus balls, fried gizzards, salted beef tongue, skewered chicken, and fish cakes, as well as something I've never seen anywhere else on any menu -- camembert cheese tempura. Nom.
There may be nothing I like doing more on a cold, dreary New York winter night after getting off work than crossing that one, frosty street from Grand Central to Menchanko Tei and ordering up a few onigiri, a warm bowl of noodles, and a tall glass of Asahi.
Why It's Nerdy
Let's talk location, and then let's talk about a demon. First, location... Menchanko Tei's 45th Street location is directly next to Midtown Comics, and Menchanko Tei's 55th Street location is a popular lunch spot for Random House (and it was on a lunch date with some folks at Random House that I was first introduced to the shop). Next up, the demon... When you go to Menchanko Tei, you'll notice a funny little fellow on their logo. This is a Japanese demon, an oni, and it was designed for them by artist Seitaro Kuroda. This oni is hiding, too, at the bottom of Menchanko Tei's bowls. Now, it depends on the specific dish you order, but most ramen comes in a special pre-heated bowl, and if you slurp up all your noodles and drink up all your soup, you'll find Menchanko Tei's oni waiting there for you at the bottom as your reward.
Location
Menchanko Tei has two shops in Manhattan, 43-45 West 55th St by Central Park and 131 East 45th St by Grand Central Terminal (and Midtown Comics).
Credits
What They Say from menchankotei.com. Words and top image by Peter Tatara. Written on April 17, 2012.